An initiative promoting the well-being of its employees.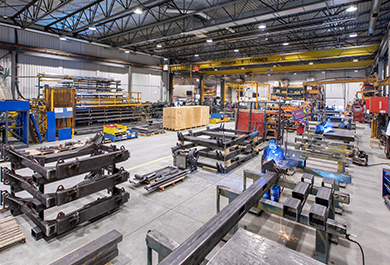 As part of an initiative to add to its employees' well-being and work-life balance, Matiss has implemented a new policy in regards to its workweek. As of now, the company's employees can enjoy a 36-hour workweek over a 4-day period. Matiss employees are entitled to choose this option according to their personal needs.
Customized work conditions
This initiative is part of a series of actions around a global compensation project and a major shift launched in 2020 to enhance its recruitment and retention activities. Always striving to offer improved work conditions, including greater flexibility for its teams, employees can opt for a 4-day week if they wish, but can also keep the 4 ½ days a week formula if they prefer this option. Each department establishes its schedule under the sole condition that 28 hours must be regular hours and the remaining 8 hours be flexible. These initiatives will also add to job seekers' interest for the company, while offering winning conditions to its existing employees.
Always tuned in to their employees' needs
As employers must remain creative to counter the labor shortage while ensuring employee retention, some companies have decided to work with experts specialized in this field. That is in fact a step taken by Matiss by retaining the services of a specialized firm nearly 3 years ago. "Today's job market calls for proactive strategies and policies to fill positions." indicates Mrs. Virginie Martel, Human Resources Director for Matiss. Mrs. Martel also mentions that all these measures are put in place to support the company's efforts to attract and keep the best talents for in demand positions such as in electrical programming and design, in equipment design and manufacture, as well as in IT.
Thus proceeding to revise the total compensation offer, Matiss reviewed and adapted its direct compensation and its benefits. In addition, the company offers career development opportunities that will meet their professional aspirations, along with a healthy and stimulating work environment to which they can contribute. Therefore, the 4-day week completes this improved offer allowing its employees to have a work schedule that is truly adapted to their own reality. With the steadfast intention of offering made-to-measure conditions and work satisfaction for its teams, the company consulted its employees to determine the new overall compensation policy, highlighting that its employees' well-being, is above all else, its priority.
HR function serving the continued growth of Matiss
Matiss recently opened a new position for a human resources and organizational development advisor. Mrs. Martel states that this is a very strategic position for the future of Matiss, and to remain proactive and ahead of the trends in attracting skilled labor. "The role of this resource will be to ensure that our employees are flourishing at work while developing professionally on a daily basis. This resource will actively partake in various organizational development initiatives in order to enable HR function to innovate and rise strategically with the constant objective of contributing proactively to organizational growth."
About Matiss
Founded in 1995, Matiss is a privately held Canadian company with some 100 employees between its head office in Saint-Georges de Beauce, Québec, and its place of business in Sainte-Julie, Québec. Matiss's mission is to offer industrial automation solutions to make its customers more competitive in the manufacturing of their products. The Matissoft division develops and integrates ERP-type production management and process control software for the agricultural sector, notably for millers and breeders. The MatissEquipment division offers automation, robotics and custom equipment solutions. For further details, visit www.matiss.com.