A company succession ensuring continuity and all employees' positions.
Always looking to the future and continuity of his company, Jacques Martel, president of Matiss is pleased to announce he is passing the torch to a new generation of leaders. The company will be led by two young successors, namely his daughter, Virginie Martel, who was at the helm of human resources for the Matissoft division, and Bobby St-Pierre, who has been the financial director of Matiss since 2018.
A homegrown business, that remains at home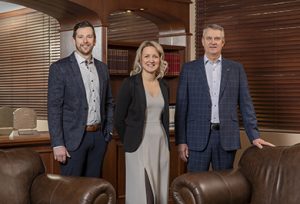 It is always a given that handing over the keys of one's business to people who are already very familiar with Matiss and truly care about its future and prosperity is reassuring. These two young people from Québec will gradually take the reins of this proudly Canadian business and its head office will remain in Saint-Georges, Québec.
While other companies may be acquired by foreign interests, it is very comforting to see local businesses remains 100% local, as Mr. Martel explains: "Hundreds of businesses close their doors or are sold to foreign interests for lack of local successors. Today, one of my greatest wishes comes true. My company will last, and that, while remaining in Québec. All the good people who have made a success of Matiss are remaining with us. Our employees have always been at the heart of our preoccupations, and now, they are all keeping their job."
Mr. Martel also mentions that Matiss could have been sold to a foreign company and that many offers came in, but it was absolutely non-negotiable for him, the company had to remain here and all of its employees from St-Georges and Ste-Julie needed to feel reassured.
A surefooted succession
All pieces are in place for a smooth transition as Mr. Martel will remain president for as long as is necessary to ensure a stable and harmonious transfer to his successors.
The new leaders of Matiss will also be able to count on the experience and support of Mr. Doris Boily, who remains as executive director of MatissEquipment, a division of Matiss. Bobby St-Pierre will now be general manager of the software division, Matissoft, as Virginie Martel will head human resources for the entire company.
About Matiss
Founded in 1995, Matiss is a privately held Canadian company with some 100 employees between its head office in Saint-Georges de Beauce, Québec, and its place of business in Sainte-Julie, Québec. Matiss' mission is to offer industrial automation solutions to make its customers more competitive in the manufacturing of their products. The Matissoft division develops and integrates ERP-type production management and process control software for the agricultural sector, notably for millers and breeders. The MatissEquipment division offers automation, robotics and custom equipment solutions. For further details, please visit www.matiss.com/en/